California's Most Expensive Cities
Posted by Tony Mariotti on Wednesday, January 13, 2021 at 9:29 AM
By Tony Mariotti / January 13, 2021
Comment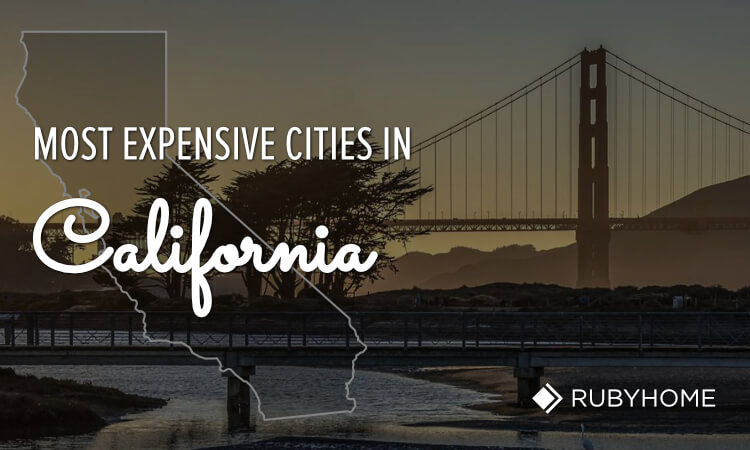 California is known as the Golden State for many reasons: its fields of golden poppies growing wild on its hills, the Gold Rush in 1949, and its precious real estate. Its diverse geography and enviable climate also contribute to the state's enduring appeal.
What's more, two of the world's most lucrative industries, namely technology and entertainment, are based in Silicon Valley and Los Angeles, respectively. It is no coincidence that proximity to Silicon Valley and Hollywood play a role (pun intended) in driving up the cost of living in California's most expensive cities.
Top 10 Most Expensive Cities in California
1. Atherton
Located 45 minutes south of San Francisco and 20 minutes away from Silicon Valley, Atherton is an incorporated town in San Mateo County. Not only is Atherton is the most expensive town in California, but it also holds the title of most expensive in the United States. According to Bloomberg's index study, Atherton's average household income is the first to cross the half-million mark since the beginning of the Bloomberg index compilations in 2017.
Mega-mansions line Atherton's residential streets, several owned by the country's foremost tech billionaires, such as late Microsoft co-founder Paul Allen and Google chairman Eric Schmidt. While tall hedges and gates guard every home, the large, looming houses are still visible from the street. Sidewalks in Atherton are also relatively sparse, dissuading visitors and tourists from infringing on Atherton residents' privacy.
Holbrook-Palmer Park, a 22-acre space with tennis courts, playgrounds, gardens, and walking paths, is the only recreation area within Atherton. Residents tend to drive to neighboring towns and cities like Menlo Park to visit shops, restaurants, parks, and museums. Downtown Menlo Park is an instant favorite for visitors looking to move to Atherton, with its quaint collection of shops and fine-dining restaurants. Stop by Refuge, a popular lunch go-to with its famous pastrami sandwich rivaling those made in New York. Horse enthusiasts and equestrians alike would enjoy visiting the Menlo Circus Club. Hosting events like gala parties, horse shows, and polo matches, the Menlo Circus Club also has a picturesque equestrian center where club members can train or ride their horses just for the joy of it.
2. Woodside
Woodside, another affluent Silicon Valley-adjacent community, comes in as the second most expensive city in California. Woodside has been home to Steve Jobs, Bill Walsh, and Michelle Pfeiffer, to name just a few of its notable residents. Woodside has kept much of its small-town charm.
Nature is a fixture in Woodside residents' daily lives, given its proximity to several county parks and preserves. Hikers take in the awe-inspiring redwood forests of Wunderlich County and Huddart Parks or enjoy scenic trails in Teague Hill or Thornewood Preserves. Woodside is also known as having the densest population of horses in the United States. Many trails are easily accessible from Highway 280. Visitors can expect to see residents on horseback riding about town, too.
Visitors can get to know Woodside by heading to its downtown area, which is small but quaint, with many of its most popular stores and restaurants conveniently within a block of each other. Get to know Woodside's history by dropping by the Woodside Store County Museum, or enjoy a hot cup of coffee and a snack at the Woodside Bakery & Café. Shop for premium goods at Robert's Market & Deli and enjoy its laid-back and homey atmosphere. Grab dinner at the Michelin-starred Woodside Pub, which serves not just gourmet meals but also comfort food staples (their burgers are a crowd favorite).
Other attractions in the area include Djerassi Ranch, home to over 50 impressive sculptures created by its many artists-in-residence over the years, and Filoli Gardens. Built in 1915, Filoli Gardens is a Georgian-Style estate with multiple themed gardens and landscapes.
3. Hidden Hills
Hidden Hills is a city and gated community that sits northwest of Los Angeles. Once prized by homebuyers for its relative remoteness -- which inspired its eponymous moniker and increased its value in the eyes of its newest residents -- it has been gaining more visibility in recent years as a go-to neighborhood for Hollywood celebrities. Kanye West, the Kardashian-Jenners, Drake, Miley Cyrus, Jennifer Lopez, Jaden Smith, and Britney Spears are among the many stars who have made Hidden Hills home.
Developed in the 1950s, Hidden Hills is an equestrian-friendly community, and every home is required to set aside 600 square feet of space to accommodate a stable. As it was then and is now, it is an ordinary sight to see Hidden Hills residents out and about on horseback. Hidden Hills has over 25 miles of horse trails as well as designated riding areas within the community.
Aventure seekers and horseback riders can explore the trails in the northern edge of Hidden Hills toward the Upper Las Virgenes Canyon open space with its rolling hills and stunning views of the Santa Monica mountains.
Some of the HOA amenities include tennis courts, an Olympic-sized swimming pool, and a movie theater. Hidden Hills stays true to its integrity as a residential area, so residents must travel beyond its gates to nearby towns, like Calabasas, for shopping and dining.
Every house in Hidden Hills is custom and unique, a departure from nearby Calabasas' cookie-cutter neighborhoods.
4. Beverly Hills
Despite its humble origins as a lima bean ranch, Beverly Hills is one of the world's best-known cities. It is home to celebrities and business moguls and infused with luxury hotels, world-class shopping, and some of the Los Angeles area's priciest homes.
Much of Beverly Hills was established during the boom years in the 1920s, so many original homes and estates here, architecturally speaking, are Period Revival. While there are plenty of Modern and Contemporary 9-figure properties here, the selection of Mediterranean, Italianate, Spanish Colonial, French Normandy, Tudor, and Beaux-Arts homes is hard to beat. You won't find many homes with this kind of character and charm in Silicon Valley, where most luxury homes were built in the Postwar era.
A few notable Beverly Hills neighborhoods help it over-index for median house prices. Beverly Park and Mulholland Estates sit on the Santa Monica Mountain Range in the Beverly Hills Post Office neighborhood (technically Los Angeles, but street addresses sport the 90210 zip code). Both are exclusive, gated communities.
Within the city limits, three more top neighborhoods also contribute to making Beverly Hills one of the most expensive cities in the United States. They include Beverly Hills Gateway, Trousdale Estates, and Beverly Hills Flats.
5. Los Altos Hills
Los Altos Hills is a city in Santa Clara County that consistently ranks as one of California's most expensive cities.
Los Altos Hills had humble beginnings as fruit orchards and a hub of agriculture. In fact, the Los Altos History Museum site sits on one of the last apricot orchards in Santa Clara Valley. Today, the city is part of tech hub Silicon Valley.
Its location at the Santa Cruz Mountains' foothills makes Los Altos Hills ideal for nature lovers looking to escape and connect with nature. Fly kites and go gliding in the Windy Hill Preserve, a 1,300-acre field, or hike along the San Andreas Fault Trail and the many other trails that branch out from it. Learn about organic farming at the Hidden Villa Farm, or shop for fresh organic produce and homemade products (and gourmet food trucks!) at the Los Altos Farmers Market.
Notable tech moguls who've made Los Altos Hills home include Google CEO Sundar Pichai, Google co-founder Sergey Brin, and Hewlett-Packard co-founder David Packard. The rolling hills and romantic vistas have also attracted renowned authors such as Wallace Stegner and Connie Young Yu.
Community arts are also alive and well in Los Altos Hills. The Los Altos Stage Company, a group of actors from the community that stages live theater shows. Residents and visitors can also take in the town's public art and sculptures, all a part of a city-wide Public Art Program.
6. Malibu
Located up the Pacific Coast Highway from Los Angeles, Malibu is a getaway that has attracted the wealthy and famous for generations who eagerly look to settle down along its rugged coastline and magnificent beaches. Its ocean views, Mediterranean climate, and associations to luxury in pop culture have made Malibu one of the most recognizable and expensive cities.
Beachgoers, surfers, and anglers alike will enjoy Malibu's many gorgeous beaches. Stop by Zuma Beach, Malibu's biggest, with its golden sand and proximity to many casual and gourmet restaurants. More adventurous beachgoers, hikers, and divers may prefer Point Dume State Beach and Preserve, with its cliffs, hiking trails, and rocky coves. California Gray Whales pass just offshore each time they migrate. Hikers can further explore Malibu's trails by visiting Solstice Canyon, Escondido Falls, or Malibu Creek State Park. The Malibu Pier has many quaint shops, restaurants, and views of the ocean. It's an excellent spot for surfers, too.
Like Beverly Hills, Malibu's priciest neighborhoods play a significant role in its status as one of California's most expensive cities and one of Los Angeles' most expensive neighborhoods. They include Paradise Cove Bluffs, Encinal Bluffs, Serra Retreat, and Malibu Colony. The small enclave of Paradise Cove Bluffs sports homes in nine-figures, making it Los Angeles County's most expensive communities.
7. Portola Valley
Perched along the Santa Cruz Mountains' eastern slope, Portola Valley is centrally located in Silicon Valley, just six miles away from Highway 280. It is a short 14-minute drive from Stanford University, 24 minutes from the Google headquarters, and about a half-hour away from both the San Jose and San Francisco International Airports.
Portola Valley strikes a balance of modern development with breathtaking pastoral idyll, with over 1,900 acres of permanent space and over 36 miles of extensive trail systems for residents to explore. Its Town Center is where most residents gather for events like the year-round Thursday Farmers Market.
Outside of two local grocery stores, Portola Valley has no big shops and supermarkets of its own, which leads its residents to drive to neighboring Palo Alto to run daily errands.
Portola Valley is home to Ormondale Elementary and Corte Madera Middle School, two of the most highly-regarded public schools in the county. Also noteworthy is college-preparatory Woodside Priory School.
8. Ross
Located in Marin County, a 36-minute drive north of San Francisco, Ross is among California's best small towns in which to live. Ross is known for its quaint, rural atmosphere and many local shops and restaurants. The city is bordered by lakes, parks, and hills, making it a favorite retreat for residents and visitors.
Ross' crowning jewel is the Marin Art and Garden Center. It features various gardens for discerning tastes: from the manicured and elegant Rose Garden to the wild and uninhibited Habitat Garden, to the colorful florals of Sun Garden and the healthy and delicious selections in the Edible Garden. The Garden Center is also a central hub for art and cultural events, hosting lectures, author talks, workshops, and exhibitions on a wide range of media such as sculpture, digital art, photography, and illustration.
Natalie Coffin Greene Park is a fantastic jumping-off point for venturing into Phoenix Lake and the Marin Municipal Water District watersheds. Adventurers taking surrounding loop trails are rewarded with views of Phoenix Lake. Get up close and catch a glimpse of the lake's resident turtles and river otters! Bald Hill Ridge Preserve and beloved local landmark, Bald Hill, overlooks Ross and its neighbor San Anselmo.
Ross has a trio of well-known and highly-esteemed schools: Ross Preschool, Ross School, and Branson School. Despite being a small town, Ross manages its services independently, including fire protection, a water district, and a sanitation district.
9. Los Altos
Founded as an agricultural town filled with summer homes and lush apricot orchards, Los Altos has grown into one of California's most affluent residential areas. Many employed in Silicon Valley call this city home, commuting short distances to nearby Palo Alto, Mountain View, and Stanford. Because it is primarily a residential suburb, much of its commercial centers are limited to its downtown area and shopping and office parks along El Camino Real and Foothill Expressway.
Its convenient location makes Los Altos a fantastic educational hub. Not only is it in very close proximity to Stanford University, but Los Altos is also near Santa Clara University, Foothill College, and De Anza College. Los Altos is also home to esteemed public and private schools such as the Los Altos School District and the St. Nicholas School.
The quiet, suburban demeanor of Los Altos is also wonderfully complemented by its natural beauty. Trees line its streets, and every garden is well-maintained. Residents enjoy Shoup Park, and Redwood Grove Nature Preserve with its various trails that serve adventurers of all ages and skill levels.
The diverse population of Los Altos has fostered a colorful and equally diverse local food scene that ranges from authentic Mexican cuisine to German baked goods. It is also home to a collection of Farmers Markets: The Los Altos Farmers Market (open on Thursdays from May – September), Craig Murray's Garden and its organic produce, and nearby Mountain View Farmers Market (open on Sundays, all year' round).
10. Palo Alto
Known worldwide as the birthplace of Silicon Valley, Palo Alto is home to a collection of high-technology companies such as Tesla, Hewlett-Packard, Skype, Houzz, and the Ford Research and Innovation Center. It has also incubated other tech greats such as Google, Apple, PayPal, Logitech, Pinterest, and Facebook.
Popular attractions here include the Museum of American Heritage, the Hiller Aviation Museum, and the Palo Alto Junior Museum & Zoo. Fans of inventor Nikola Tesla and his innovative body of work can visit his monument (also a Wi-Fi hotspot). Art enthusiasts may want to visit Cantor Arts Center and its 199 Auguste Rodin works, including "The Thinker" and "Gates of Hell" sculpture inspired by Dante's Inferno.
Science enthusiasts may be interested in checking out Standford Dish, a 150-foot-wide radio telescope built by Stanford University Scientists in 1965.
Palo Alto has gorgeous parks and nature attractions, a welcome sight for residents looking to downshift. There is the wide-open Byxbee Park with its waterfront vista and the Baylands Nature Preserve, with 15 miles of flat trails frequented by humans and wildlife, including local pheasants and pelicans.