Average Length of Home Ownership (2023 Stats)
Posted by Tony Mariotti on Friday, July 22, 2022 at 10:57 AM
By Tony Mariotti / July 22, 2022
Comment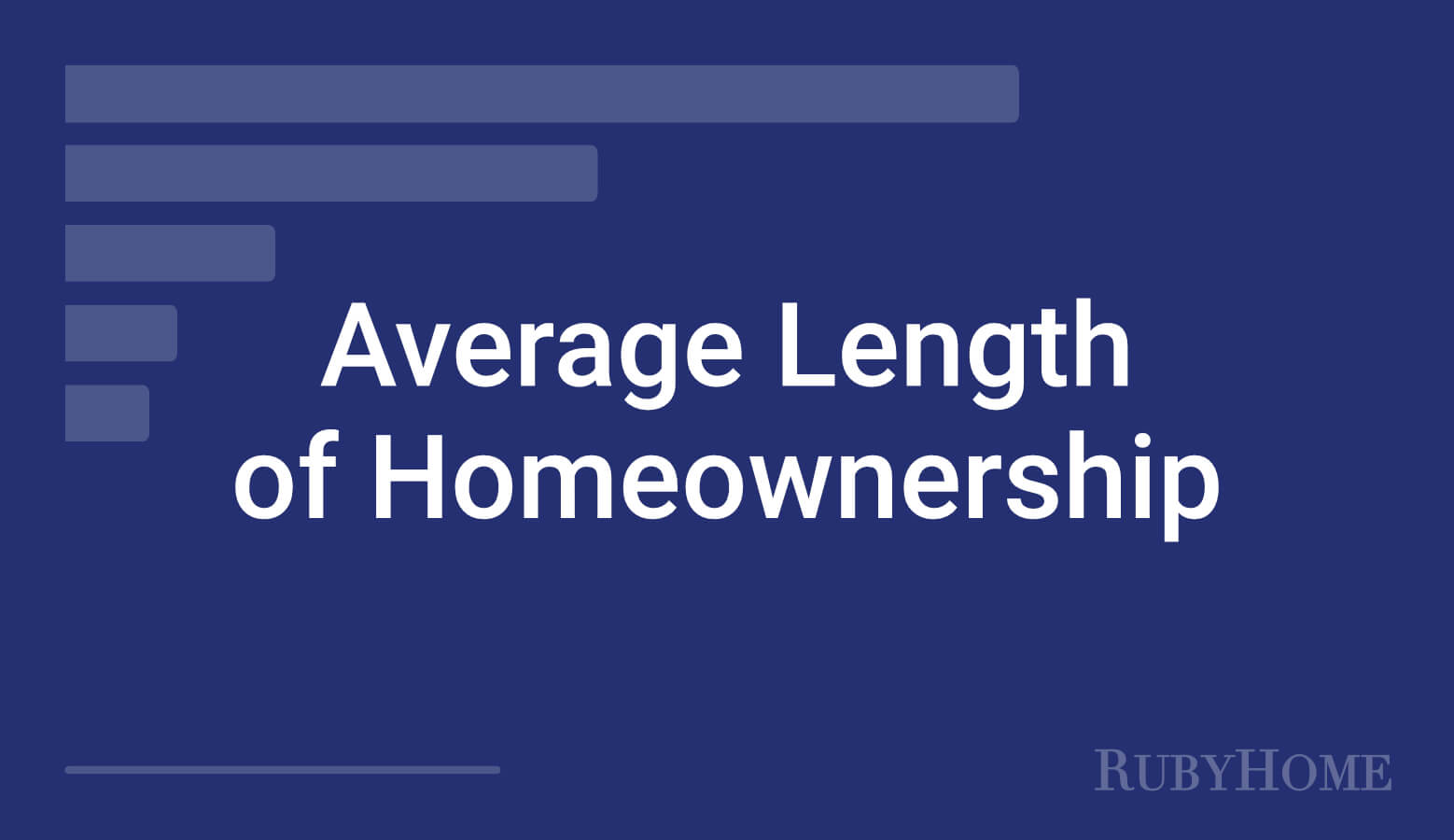 The typical U.S. homeowner spends 13.2 years in their home.
However, the average length of home ownership has changed over the years and varies when considering factors such as region, age of the home, and more.
Let's take a closer look at the average length of homeownership from the following perspectives:
Key Homeowner Stats
The median duration of homeownership in the U.S. is 13.2 years.
The median length of homeownership has increased by 31% since 2012.
Homeowners in the Northeast stay in their homes the longest.
In large metros like New York City and Los Angeles, homeowners stay in their homes for 15 years, slightly longer than the national average.
Homeownership tenure in the Mountain States is the lowest.
A study showed that people own homes 47% longer on average when built before the year 2000 versus after.
Median Homeowner Tenure
Over the past decade, homeowners have held on to their homes longer and longer.
According to Redfin's analysis, homeowners typically stayed in their homes for 10.1 years in 2012. This number increased to 13.5 years in 2020, a gain of over 3 years.
The trend for homeowners to stay in their homes longer flattened a bit in 2021 as many Americans moved during the Covid pandemic.
Here is a table of median years of ownership over time:
| Year | Median Years Ownership |
| --- | --- |
| 2012 | 10.1 |
| 2013 | 10.6 |
| 2014 | 11.2 |
| 2015 | 11.6 |
| 2016 | 12.1 |
| 2017 | 12.5 |
| 2018 | 12.9 |
| 2019 | 13.3 |
| 2020 | 13.5 |
| 2021 | 13.2 |
Source: Redfin
The pandemic made many workplaces realize that employees could work from home effectively, fueling a trend for remote work and more location flexibility for employees. With less concern about proximity to the office or long commute times, in combination with low-interest rates, many Americans decided to relocate, often to more affordable areas.
Despite the pandemic-related catalysts that made many Americans consider moving, folks still live in their homes longer than in the past.
With an aging population, most older homeowners prefer to stay in place. In addition, many parts of the country have a housing-supply shortage creating a competitive market. Longer homeowner tenures and short housing supply can make a positive feedback loop where fewer people want to move due to the competitive housing market. Then, fewer people moving also contributes to the limited supply of houses available.
Length of Home Ownership by City
The length of home ownership in the Unites States varies by city and region.
In general, homeowners in the Northeast and tend to stay in their homes the longest. The following metro areas had a median homeownership duration of 16 years or longer:
Scranton: 18 years
Buffalo: 16 years
Pittsburgh: 16 years
Springfield: 16 years
Here are how some other large and relevant metro areas compare, all of which fall between the extremes of 7 to 18-year ownership tenures:
New York: 15 years
Los Angeles: 15 years
Boston: 14 years
Chicago: 13 years
Atlanta: 11 years
Dallas: 10 years
Seattle: 10 years
Homeowners tend to spend the least time holding onto their homes in the Mountain/Central States. People in the following metro areas typically stay just 7-8 years in their homes:
Austin: 8 years
Boise: 8 years
Colorado Springs: 8 years
Phoenix: 8 years
Las Vegas: 7 years
Provo: 7 years
As we can see from the data, fast-growing metro areas typically have low median tenures. For example, Austin, which had one of the lowest ownership durations of 8 years, had 18% of its population move in the prior 12 months. Colorado Springs falls into the same category, with 21% of its population having moved recently. Intuitively this makes sense; many new people moving to an area means the average length of time people have spent in homes in the area goes down.
Interestingly, big cities with housing shortages also had longer home ownership tenures. Fewer people tend to move to competitive housing environments; for instance, in New York City, only 9% of the population moved recently. This situation led to a long average homeownership tenure of 15 years. In Los Angeles, we see the same thing; only 9% of the population moved in the prior 12 months, creating a median homeownership duration of 15 years.
Source: NAR
Age of Home & Length of Ownership
How does the home's age impact how long will owners live there? One analysis of 3,200 home sales in Arlington, Virginia, could give some insights into this question.
Homeowners with older homes tend to live in them longer. Homes built in the 2010s had an average homeownership tenure of 4.6 years, compared to homes built in the 1970s, which saw the average homeowner stay for 11.5 years.
Though this study pulls data from just one specific market, intuitively, the trend makes sense. Recently built homes are more likely to have new homeowners move in, while an aging homeowner may be less likely to move and prefer to stay in the house they purchased further back in time.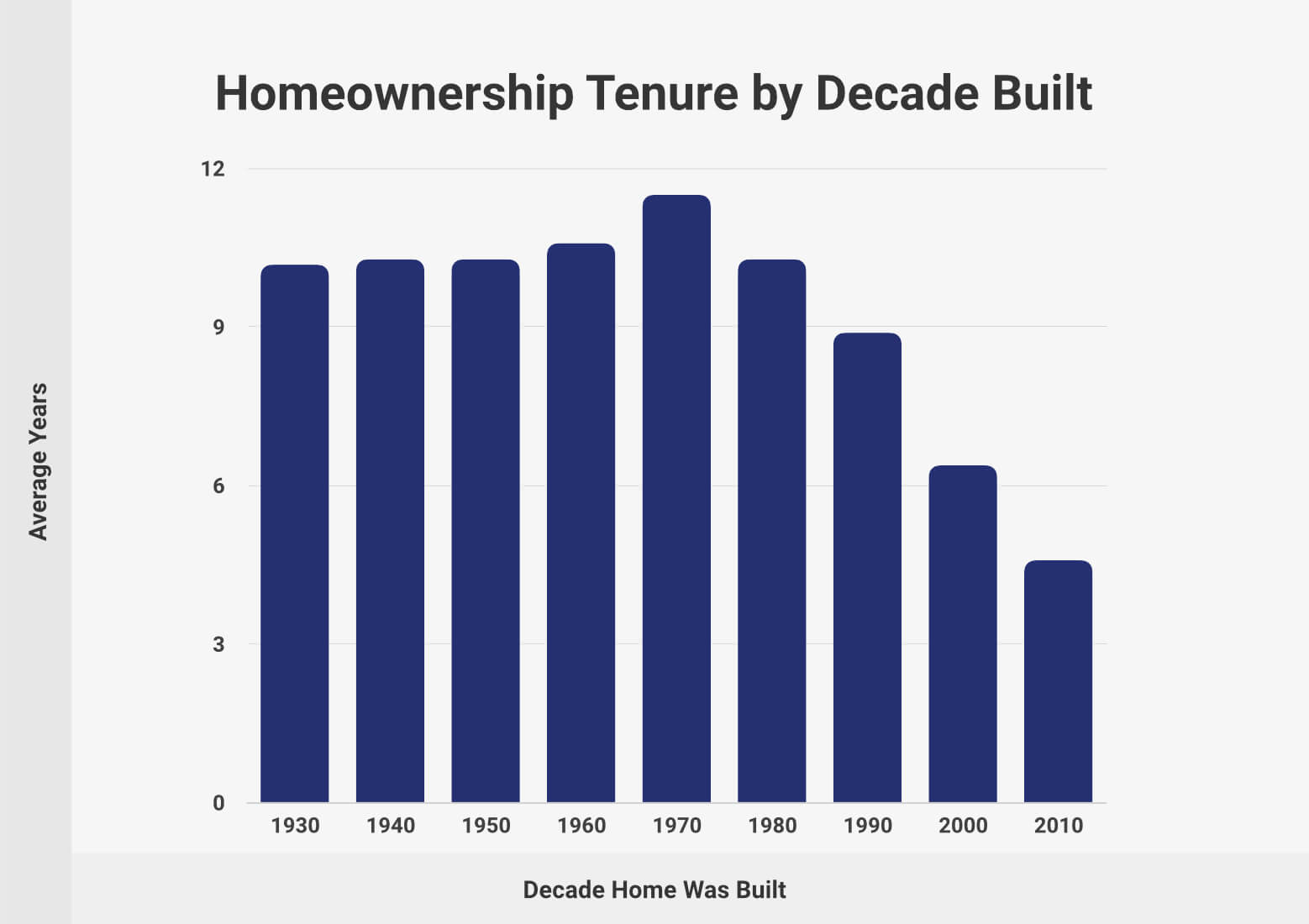 Here is table showing the average length of homeownership by decade in which the home was built:
| Decade Built | Avg. Years of Homeownership |
| --- | --- |
| 1930 | 10.2 |
| 1940 | 10.3 |
| 1950 | 10.3 |
| 1960 | 10.6 |
| 1970 | 11.5 |
| 1980 | 10.3 |
| 1990 | 8.9 |
| 2000 | 6.4 |
| 2010 | 4.6 |
Source: Eli Residential Group
Conclusion
In summary, homeownership tenure has increased over time, with people now typically owning a home that they purchase for 13 years. It will be interesting to see in the post-pandemic world if people will continue to stay in their current homes or look to move and capitalize on changing workplace trends in the future.
Depending on the region and age of the home, the length of homeownership can vary. We can continue to expect fast-growing areas to build many new places to live and have lower average ownership tenures with recent arrivals moving in. We can also expect people to continue to stay in their homes longer in pricy and competitive markets.