Homes for Sale in Beverly Hills
Search all homes for sale in Beverly Hills, CA and real estate listings. Beverly Hills is an iconic American city as a famous as its denizens. It began humbly as a lima bean field, but when the municipality was incorporated in 1914, it began its metamorphosis into the hub of wealth and glamour that it is today.
Forever immortalized in film, music, and television, the notion of living in Beverly Hills carries a certain cachet. Beverly Hills is equally welcoming to the non-famous, too. While homes here are high-end, in many respects this is normal, medium-sized town with excellent parks, libraries, and other amenities that ensure a high quality of life. Register for a free account to receive email alerts whenever new Beverly Hills listings come on the market.
Latest Beverly Hills Real Estate Listings
Beverly Hills Real Estate Market Statistics
January 20, 2021
$2,128.00
Avg. $ / Sq.Ft.
$5,295,000
Med. List Price
Neighborhoods in Beverly Hills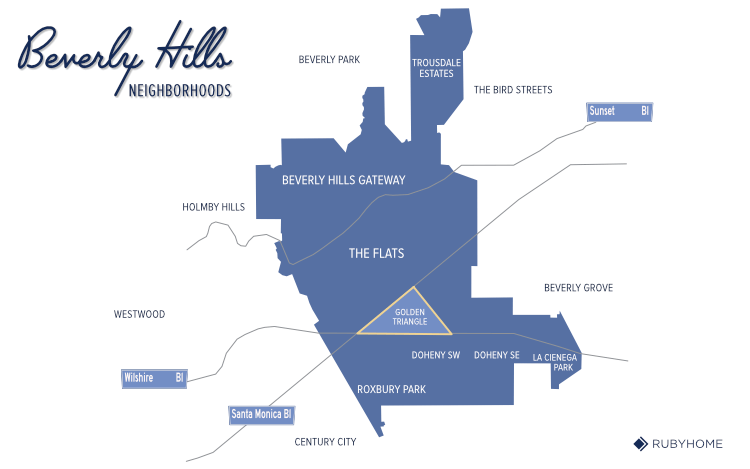 Beverly Hills Info
Beverly Hills is best known for its stunning mansions and custom-built luxury homes; this could lead one to believe that buying a home in Beverly Hills is limited only to ultra high net worth individuals. The biggest houses here are among the priciest in the nation.
However, the local housing stock includes condos, townhomes, and single-family residences. Think of Beverly Hills real estate as an airport with private and commercial passenger jets sharing the same hangar.
Home buyers can expect to view houses with common interior amenities like high ceilings, chef's kitchens with commercial-grade appliances, custom cabinetry, media rooms and wine storage.
It's safe to say there are no ugly yards in Beverly Hills. Professional landscaping is the norm. Palm trees, bougainvillea, and other non-native species flourish in the year-round California sunshine. Backyard pools and tennis courts are common, some with nearby built-in outdoor kitchens, barbecues and fire pits that are perfect entertaining guests. While not as prevalent, rooftop solar panels are growing in popularity.
Architecture
Architectural styles vary widely here, and real estate shoppers will be happy to know that there's a very good chance they'll find a property that suits either traditional or modern taste. Or somewhere in between.
Classic homes, many built in the 1920s and 30s by Hollywood elite, are well-maintained and highly sought after to this day. Notable architectural homes here have names like Cytron House or Levit House (designed by Richard Neutra) or Pickfair (Wallace Neff). The 55-room Greystone Mansion (Gordon Kaufmann, 1928) is now a public park and popular filming location.
Beginning in the 1980s, new and remodeled homes in Beverly Hills took on an out-of-scale appearance compared to the older homes in the city. Houses were built with bulky materials, designed with larger facades, and less landscaping. Dismayed citizens looking to preserve the garden-like appearance of the city voiced their concern, resulting in, a) the publication of a Residential Design Style Catalogue by City of Beverly Hills in 2004, and b) zoning commission reviews for the construction of new homes or remodel work on existing homes.
If you like white interior walls, red tile roofs, and stucco exteriors you'll be very happy house hunting among the homes for sale in Beverly Hills, particularly among the Spanish Colonial (Monterey, Spanish Mission) and Period Revival (Greek, Italianate, Italian Renaissance) homes.
If you fancy homes that might look like ones from the East Coast, keep an eye out for American Colonial (Neo-Colonial, Cape Cod, Georgian, Federal, and New-Classical).
If the charms of country living appeal to you, be sure to hunt down a Rural European Revival (Tudor, English Cottage, and French Normandy Farmhouse) home.
Contemporary Homes (Moderne, International, Post Modern) are also popular here.
Other architectural styles of homes in Beverly Hills include Art Deco, Ranch, Bungalow, and Craftsman (including Asian and Prairie).
Beverly Hills Subdivisions
The city is dividing into two core areas: North and South of "the tracks." The monikers refer to a time when the Pacific Electric streetcar line once passed through the city along what is now the ever-busy Santa Monica Boulevard (formerly called Route 66).
NORTH OF THE TRACKS
Benedict Canyon – north-south ravine in the Santa Monica Mountains known for its natural beauty and a proactive homeowners association that aims to keep it it that way
Beverly Hills Gateway – mansions among winding roads and lush landscaping in the foothills, privacy and exclusivity is assured
The Flats – large luxury homes built on big lots nestled between the foothills and Santa Monica Boulevard
SOUTH OF THE TRACKS
Golden Triangle (Downtown Beverly Hills) and Rodeo Drive – non-residential area loaded with high-end retailers, swank restaurants, and cafes
Beverly Hills Doheny SW & SE – two residential areas near Beverly Hills High School
Roxbury Park – tree-lined, quiet residential streets
La Cienega Park – residential neighborhood at the southeast corner of Beverly Hills close to Beverly Grove
Amenities
Dining & Shopping
The Golden Triangle is the commercial core of Beverly Hills and seat of local government, City Hall. The post office, main library, and police headquarters are also located here. The district is dotted with world-class restaurants and hotels like Beverly Wilshire, Luxe, and Montage.
In the heart of the Golden Triangle sits Rodeo Drive packed with its luxury stores. It's the perfect place to go for a day of shopping, manicures, and great food. Flocks of tourists can make the area quite crowded, but locals know how to dodge crowds for simple pleasures - like enjoying an espresso - by doing business with smaller, locally owned and operated cafes.
Spa Montage features state-of-the-art skin care and anti-aging treatments - a great spot to melt away the hustle and bustle of urban living. Locals and visitors enjoy their highly-rated professional massages and facials.
Connect with local merchants and pick up some organic fruits and vegetables at Beverly Hills Farmers Market. Kids can take cooking classes while their parents taste farm-to-table selections of food. It's also a great place to pick up wine. The Farmers Market is held on Sundays from 9 am to 1 pm, and you'll find it on Civic Center Drive.
Downtown has ample, cheap parking in several public garages which comes in handy on market days. There are plenty of valets, too.
Parks & Recreation
The City of Beverly Hills operates six parks, seven mini-parks, and two gardens, all of which contribute to the area's high quality of life.
La Cienega Park & Tennis Center is the biggest. Its facilities include a jogging track, baseball diamonds, soccer field, and outdoor exercise equipment. The La Cienega Community Center is also part of the complex, making it a busy activity hub for exercise, classes and community events.
Recently renovated Roxbury Community Center & Memorial Park features sand volleyball courts, playground, basketball courts, baseball diamond, and picnic tables. It's also one of the few spots in L.A. County for lawn bowling. The 11-acre complex has plenty of grassy areas and shade trees for chilling out on a sunny day.
Culture & Events
Frederick R. Weisman Art Foundation perfectly captures the Beverly Hills attitude of beauty and glamour. Come see Mr. Weisman's personal art collection - posthumously turned into a museum - and marvel at the gorgeous paintings, statues, and drawings on display.
The Beverly Hills Social Club features performances by both local and famous musicians, poets, and entertainers. The Social Club is bound to provide you with some unforgettable memories.
Woofstock 90210 is an annual festival held in Roxbury Park that includes live entertainment, a pet parade, and pet adoptions. Dogs and their owners love it!
Beverly Hills artSHOW is held every year in Beverly Gardens Park, right across the street from Downtown Beverly Hills. Roughly 250 artists display their work to the public. The event is dog-friendly, free, and well-attended.
Schools in Beverly Hills
The kids of Beverly Hills have access to four public elementary schools serving both sides of The Tracks and one public high school. There are also three religiously-affiliated private schools.
Public
Hawthorne Elementary - 624 North Rexford Dr., Beverly Hills, 90210
El Rodeo Elementary - 605 North Whittier Dr., Beverly Hills, 90210
Beverly Vista Elementary - 200 South Elm Dr., Beverly Hills, 90212
Horace Mann Elementary - 8701 Charleville Blvd., Beverly Hills, 90211
Beverly Hills High - 241 Moreno Dr., Beverly Hills, 90212
Private
Good Shepherd Catholic School - 148 South Linden Drive, Beverly Hills, 90212
Harkham Hillel Hebrew Academy - 9120 West Olympic Boulevard, Beverly Hills, 90212
Temple Emanuel Academy Day School - 8844 Burton Way, Beverly Hills, 90211
Beverly Hills REALTORS®
Thinking of buying a home in Beverly Hills? Or, perhaps you're ready to sell?
Our Beverly Hills real estate agents are neighborhood experts who can help negotiate the quickest deal possible. We can provide up-to-the-minute Beverly Hills real estate market statistics - average home prices, sales history, and the latest trends for the area.
Our agents are trusted professionals who work full-time; you'll partner with a dedicated expert whose only aim is to help you reach your goals.
Stats
Beverly Hills Size & Population
Area: 5.70 square miles
Population: 35,000
Population Density: 6,140 people per square mile (Average)
Distances
BUR: 13.3 miles
LAX: 11.5 miles
Beaches: 9.3 miles
Downtown Los Angeles: 12.5 miles