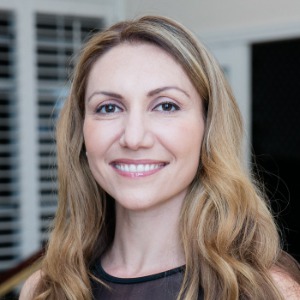 Beata Mandell represents Southern California luxury properties with exceptional skill using the most innovative technologies currently available. She specializes in luxury homes & high-rise condos in Los Angeles and knows all the areas of the city and luxury buildings inside and out. Her expert knowledge makes her an invaluable asset to any buyer or seller.
Beata is a licensed Broker in California and New York with over 20 years of experience in selling real estate and consulting with clients on their investment strategies. She is consistently one of the region's top producers. With Beata's education in International Relations (USC), Public Relations, and Real Estate along with an MBA she is able to fulfill the demands of the most discerning and astute clients.
Beata speaks fluent Russian, English, Spanish and Italian. She loves to dedicate time to charitable causes and an active ballroom dancer and tennis player.
Testimonials
"Beata successfully represented us in the purchase of a condo in a complex transaction that we wanted to close on a relatively short time frame. We are so happy we could purchase this condo and Beata's service was vital to the successful close. In addition extensive experience and her excellent advice, Beata has a steady approach and calm demeanor that helped keep me calmer than I would otherwise be. I know she is busy with many clients, but she always made me feel like I was her only priority. I highly recommend that you call Beata." - Brian
"Beata was a Godsend. She listened to me, understood exactly what I wanted, and wasted no time in finding me the perfect home. She showed me a number beautiful listings and seemed very comfortable buzzing around and always knew exactly where to go. I found my home the week I met her. She is also a lovely person and I really enjoyed my time with her. We had a great time together and I'm thrilled with my new place!" - Steven
"Beata is absolutely one of the best of the best in real estate. I am thrilled to offer our most outstanding recommendation possible for her. I have been involved with about a dozen real estate transactions in my life along with my husband and we both agree that Beata Mandell has proven to be the most professional agents of them all. Her superb dedication to her clients can be observed from the first introductory communication until the closing and beyond. She represented me as a buyer and began by demonstrating the ultimate in responsiveness with email, text, and phone. She quickly complied properties that met our criteria and provided insight like no other agent we had used before. She is quite brilliant in not only her approach but also understanding all of the buildings in Los Angeles. We met a few agents before Beata but never seemed to find someone who really understood buildings the way that Beata did. I admire her willingness to be available to offer answers to questions, information about properties and all process details. She never made us feel that our questions were bothersome or too simple. I was not familiar with the High Rise real estate market so Beata offered us a concise presentation of "all the buildings in LA" that would meet our needs. She knew what we wanted before we could even explain what we wanted just by listening to what we like. Her discussion of price considerations, neighborhoods, offering ideas, and other sales techniques were extremely helpful. She is a true customer service expert and I wish that some of my employees could learn from her. Again, we offer this recommendation with no reservation whatsoever. Best of luck as you move forward!" - Laina

"My husband and I were considering selling our home in Los Angeles and moving into a condominium. We had some concerns about downsizing, and also had very specific features we would need. We met Beata through our request to view a specific condominium in downtown LA. It quickly became clear to us that she knows the high rise market in LA. She taught us what we needed to know. We've worked with realtors over the years in Manhattan, San Francisco and Los Angeles. Beata is at the top of our list. She really cared about our needs, and remained patient with us during the times we couldn't quite make up our minds. She is so easy and fun to work with. She has integrity. She is genuine and real. Beata gave us the confidence we needed to put our home on the market as we prepared ourselves for a move to a condo. Beata got us the price we were looking for in a very short period of time. And everything went seamlessly. She stayed in touch with us, while she managed the entire process. Now it's time for her to get us into a high rise condo! If you're looking for a realtor, look no further. Give Beata a call!" - Zelda
"First home/condo purchase for my wife and I, and Beata was very understanding of our needs, and always recommended places that she thought we may be interested in seeing to make searching for us easier and tailored. She facilitated the process of price negotiation very well and explained us both each step of the way on what to expect next. This was immensely important as being first time home buyers. She never pressured us into any negotiation and was always open to discussion and listened to what we were looking for in a property and any concerns we had during the process. She has always been available for my wife and I whenever we need to get in touch with her, even during very late hours! We are very happy with our experience and fully recommend Beata Mandell for anyone looking for an understanding, dependable, friendly, and very intelligent agent with ample experience. We'll be keeping in touch with Beata for sure and hope to work with her in the future again." - ankitn7
Under Contract 800 W 1st St #3201
Los Angeles, CA 90012