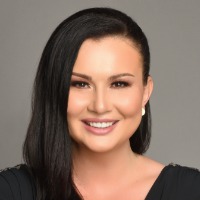 Anya is a professional athlete turned real estate agent with over 10 years of experience helping clients buy and sell homes.
As a professional kickboxer, Anya learned determination, maximum concentration, and a commitment to excellence. She compares martial arts with playing chess. "It's not about violence or anger; it's about calculating your opponent's moves several steps ahead and being ready 24/7. The same rules apply to real estate. I anticipate every move to make sure deals stay on track and that my clients get the best terms under any circumstances."
After winning the Kickboxing World Cup in 2011, Anya moved to Miami, where she helped hundreds of buyers from all over the world acquire dream homes and investment properties. Anya's expert marketing skills assured that the sellers she represented got top dollar for their homes. Anya now lives and works in Southern California.
Anya enjoys traveling, learning new things, and philanthropy. She produced a stand-up comedy charity show, "Make Laughs Not War," supporting victims of the war in Ukraine, with comedy stars such as Mark Normand and Jessica Kirson.
Anya graduated Law School at Voronezh State University.
Testimonials
"While searching the internet from NYC, I stumbled across Anya online. Her website became my #1 resource in our hunt for the perfect condo. At first, I thought the website would be the best part of my experience because it was loaded with all the properties and information one could ask for when looking at an unfamiliar area. The best was yet to come. I called and asked for information on a few different properties and was put in touch with Anya Bogomazova. From day one, Anya was friendly, professional, and highly knowledgeable. Within two weeks, we were looking for the perfect place in person, and Anna's knowledge guided us to find it. Without a doubt, we knew Anya had found us the ideal second home. From the month-long period of several offers and negotiations, Anya made herself available both day and night, even on Sundays. She gave great referrals to our closing agent, attorney, and contractors for renovations. We are now in our home for over a month, and Anya is just as responsive today to our few remaining questions. This woman and her agency are easily the best real estate professionals I have dealt with among a dozen different transactions. If I could give 10 stars, I would!!" - Wendy from Sunny Isles
"Anya is an amazing realtor! She goes above and beyond to help her clients get their dream homes. She was very responsive from day one when we decided to look for a house and always had great suggestions about different aspects of the buying process. She always responds fast and has excellent communication skills! She is very friendly and wants to meet all her client's needs. We highly recommend her!" - Stacy and Robin